The new advanced search system
which allows you to increase sales immediately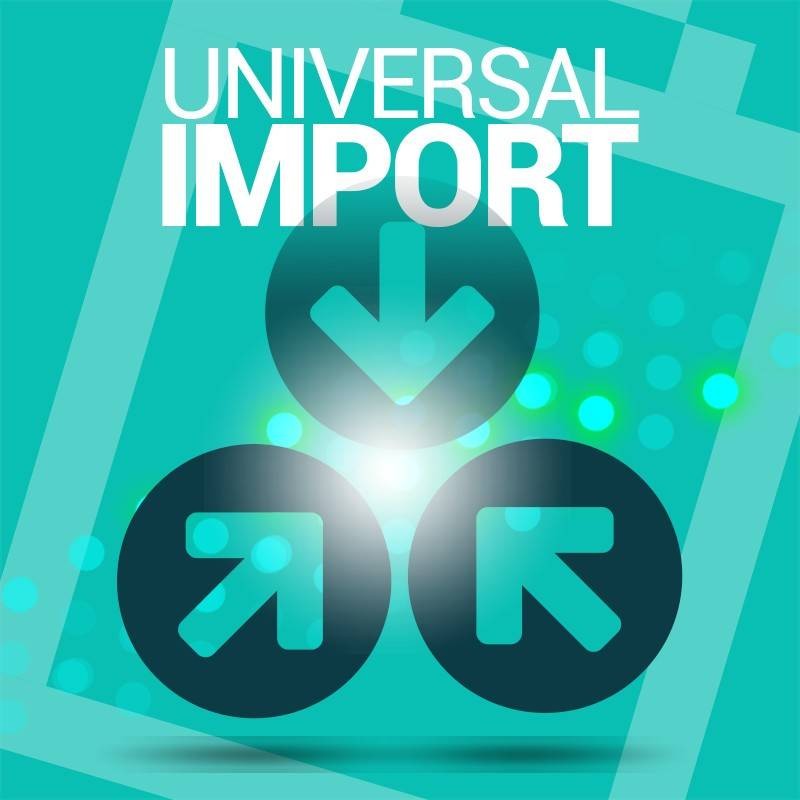  
Universal CSV IMPORT - Prestashop 1.6 1.7
With Universal Import you will be able to optimize products creation and management. In a few clicks you will be able to keep your products catalog updated from external CSV sources and Dropshipping.
Product customization
Don't forget to save your customization to be able to add to cart
done

Prestashop Certified Addon

done

3 months free assistance
The Universal Import module lets you massively create, update and delete products on your website starting from one or more CSV catalogs provided by external suppliers (there is no limit to the number of importable catalogs).
Maximum performances on every server
Unlike other import systems, Universal Import works on every type of server thanks to its optimization algorithms, so to avoid the typical problems that might arise during the import operation due to lack of resources.
FastImport algorithm, maximum efficiency
The FastImport algorithm detects the difference between new and existing data, restricting the update process only to the modified products, reducing to the minimum the elaboration time.
Images are imported with a dedicated process that can be activated after the data import, allowing further improvements to the general performances.
Advanced category management
Categories can be mapped or created exnovo straight from the file. A specific option allows to import them as disabled to handle markups before of proceeding with the proper import.
Price markups
The module allows to manage global markups, creating specific slots for price range and further refining them for each category, both as percentage and fixed fee.
Report, automatic planning and notifications
The imports can be planned via CRON. The e-mail notifications allow to check whether the operation ended successfully or not. The advanced reports allow to easily check the performed updates.
Features:
The module allows to:
Easily import products on your website from CSV files coming from external sources: manually loaded, from web address, from FTP and Dropbox;
Smart import algorithm (avoid to import again data in common between two catalogs);
Manual or automated import via CRON, with detailed operation report and email notification;
"Update price/quantity only" option for the existing products;
Configure each catalog in detail, associating fields, languages and separators;
Select a key field to match products;
Advanced price markups management with the (optional) possibility to handle sale price;
Prestashop categories mapping or categories creation from catalog;
Compatibility mode (automatically fix the most common issues during the import process);
Select what fields to preserve during an update;
"Simulation" mode to test the import process before proceeding;
Many extra "Utilities" already included in the module (catalog reset, categories reset, Catalog settings export/import);
Advanced reports integrated in the module (full report, error report, technical report);
Automate each operation via CRON and receive email notifications.
Minimum system requirements:
The Universal Import module, unlike many import systems, thanks to its optimized algorithms works on every type of server without creating problems or stopping during data creation and update. Note: Universal Import does not import product variants.
Installation:
The module installation is straightforward. A detailed PDF guide will be provided. In case of problems our customer care service is at Your disposal to offer assitence and reply to your questions.
Guide:
Full documentation available online on Prestalia.
Compatibility:
The module is compatible with Prestashop version 1.6 and 1.7.
Integration:
Taking advantage of Prestashop classes, the module is perfectly integrated with other modules that interact with product sheet. In detail, it is possible to automatically synchronize products with eBay using the FastBay module.
Demo:
Try it online at the following address:
Back office: https://demo.prestalia.it/addons-demo/backoffice
Username: demo@demo.it - Password: demodemo
You might also like
Price
€116.10
Regular price
€129.00
-10%
Price
€449.10
Regular price
€499.00
-10%
arrow_upward